Easily the Biggest event of the year for Equip2, this years Demo Day was also quite possibly the biggest in New Zealand for it's type. A massive gathering of 19 pieces of heavy equipment and some 166 people in attendance from all over the country and abroad this was the event to be at. Find out more in our write up.
The Team at Equip2 were worried about the weather on the Week of the largest Demo Day yet for the company and quite possibly New Zealand. The week started with heavy rain and surface flooding in some regions of NZ with more forecast to come and Wednesday's (28/11) forecast wasn't changing from heavy rain with southerlies.
Wednesday morning came, and the final preparations were underway; without any rain. Thus, begins the Demo Day with the weather out to bat for us. We had 164 registered to attend the day and we wanted everything in place to make it both enjoyable and practical for all attendees.
Morning
The morning started off quickly with 90 people signed in before 10am. Bacon and Egg Baps were on the Menu for Breakfast, served by the Equip2 & Attach2 teams whilst barista made coffee was being pumped out by " The Coffee Guy" ….making the trip over from Lower Hutt; supplying some 228 coffees to get everyone ready for the day.
At 9:45am the day kicked off in full, with some quick details, introductions and a rundown of what machinery would be running during the two Live Demonstrations of the day; And of course, a H & S briefing around running plant.
The two and a half-hour time frame for the first Live Demo's went quickly, with a key highlight being the Keestrack B4 Jaw Crusher and H4e Cone Crusher. The H4e Features some ground-breaking technology including a Hybrid Electric, Hydraulic setup, with some components being directly driven by E-Motors. It was also the largest machine in the yard with an imposing footprint and outline, drawing people to it.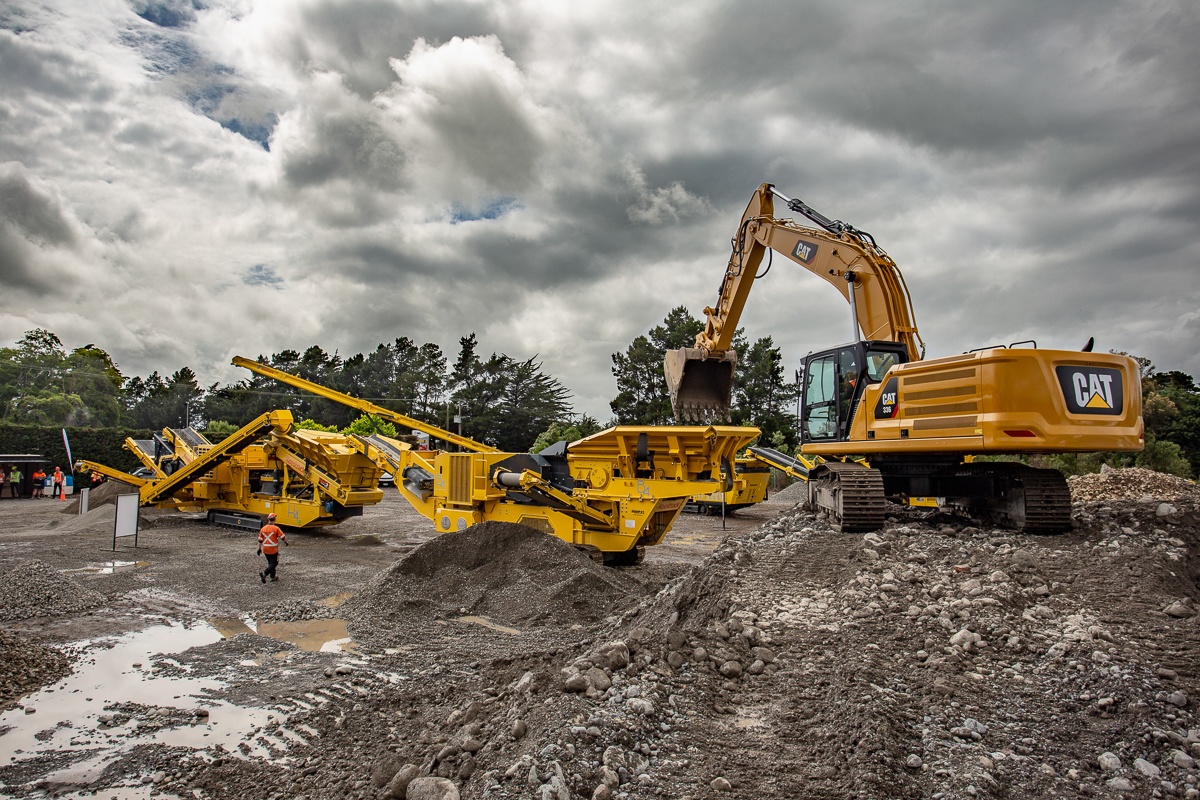 Lunchtime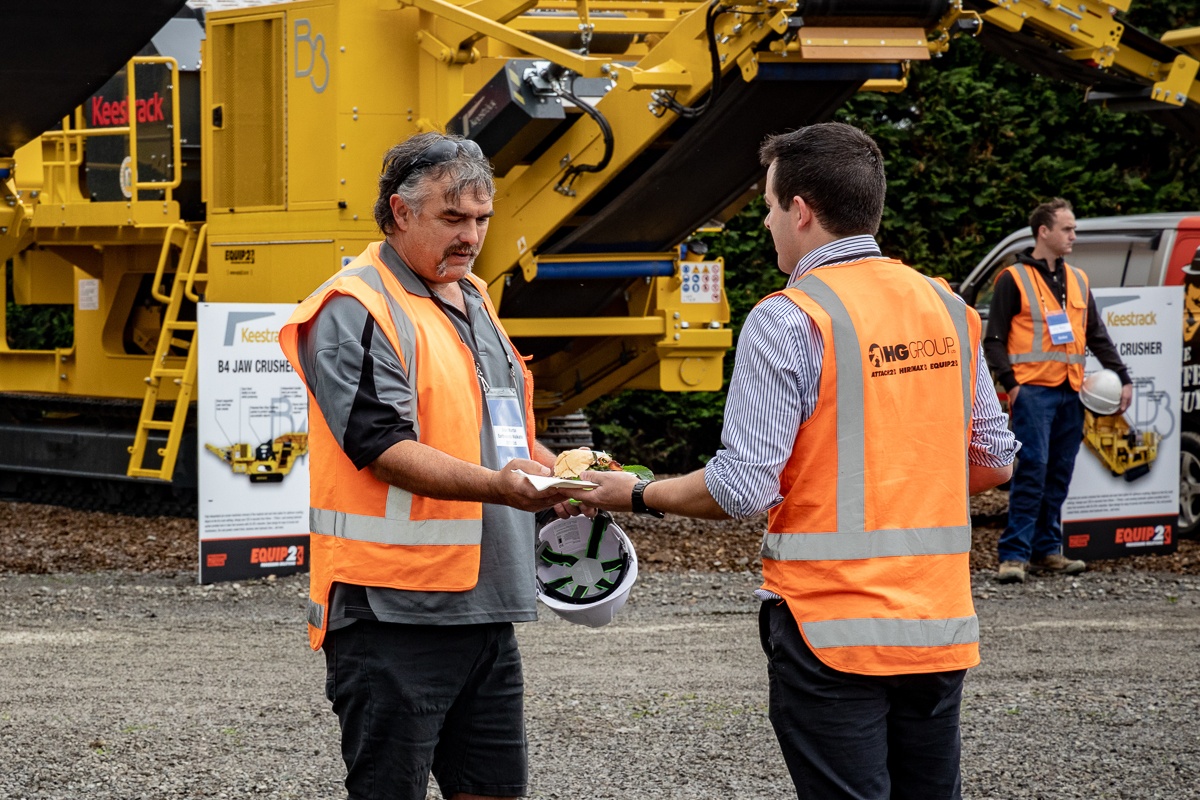 Lunchtime broke up the live demos with Equip2's famous beef burgers grilled across six charcoal fired BBQ's. With 3 years' experience from previous demo days, we are proud to have perfected the ultimate of BBQ burger!
As this years Demo Day was held at our Head Office which is also located next to Attach2, during the lunch break multiple tours were run through the Attach2 Factory and Equip2 Workshop and Warehouse. A great opportunity to see what is manufactured here, the processes and a discussion on LEAN manufacturing and implementing this system of working. LEAN being production based on forecasts of demand and production to produce both fast shipping times with minimal additional stock held which enables manufacturers to with agility.
Afternoon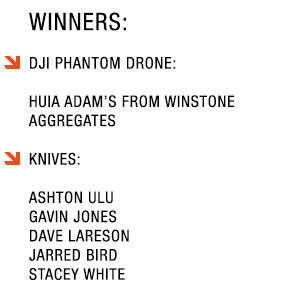 The afternoon commenced with the prize draw; Up for grabs for pre registered attendees was a DJI Phantom Drone and five Japanese Damascus Steel Knives.
The second Live Demo in the afternoon displayed the Keestrack R-series impact crushers crushing alluvial river metal and concrete. The concrete recycling was of interest as the field grows in New Zealand and demand for operations and contractors to be able to produce products from it. The R5 recycled large and small chunks of concrete containing rebar into GAP 60mm. Rebar was pulled out via the magnet belt, not needing to be removed prior to crushing.
Aside from just Crushing and Screening equipment, Gough CAT supplied NZ's first 336 next-gen excavator for loading out, a real beast. The technology on show from all these new machines represent the increasing adoption of smarter technologies in the Quarrying industry and wider earthmoving sector.
What better way to end a spectacular day with a beer, a sit-down and chat? Networking with other professionals and experts here and from around the world with their industry insights both technical and what trends are moving the industry. We had nine Experts who travelled here to attend, ranging from Australia to Ireland and Canada to share knowledge but also to learn from what's happening here with operations and machinery.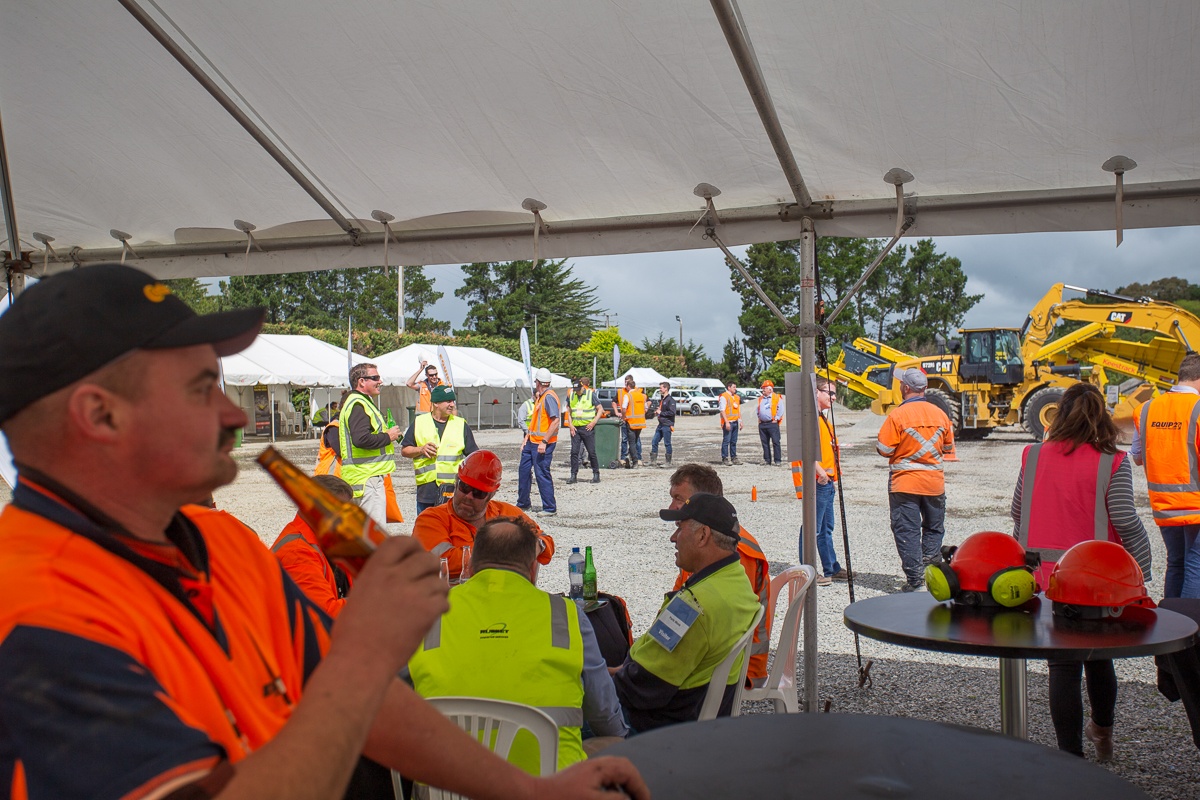 We received an overwhelming positive response from this demo day and we look forward to the next year! What will be at our next Demo Day?
Video
{{ script_embed('wistia', 'jpindv3r6j', ', ', 'inline,responsive') }}
A Day in Pictures